THE

BEST SOLUTION FOR F&B INDUSTRY

Autocount f&b pos is a full system that full-fill the needs of F&B business environment. This Autocount f&b pos system helps your restaurants to run better and more efficiently from orders and payments to your entire ingredient inventory management. With the increase in the size of the food and beverages industry, the stocks, sales and customer requirements need to be updated on time. This Autocount f&b pos will help the industry to grow and develop because they will have full knowledge about the products that are available in stock with the help of AutoCount F&B system. This system comprises of the real-time data management system. The restaurants can maintain their accounts quickly by filling up the required information in the provided fields. Moreover, the AutoCount Restaurant POS System provides an integrated solution for the business houses that comprises of stock, accounting and invoicing. Even it helps in synchronizing the POS transactions into the POS terminal, which then synchronizes back to the main terminal of the Headquarter. The AutoCount F&B system helps the food and beverage industry specialists to get important stock related information in real-time.

Fully integrated- Post POS transaction directly into Accounting modules seamlessly without repetitive entry.

Centralized Control – Ideal for business with multi outlet. Manage business in one centralized platform.

Make the restaurant Scalable and Efficient – Multiple Function in one( multi-section, floors table arrangement, table serving, multiple payments, etc.

Security & Access rights – Determine individual accessibility by controlling the access rights and user permission setting.

E-wallet Payment – Mobile payment is enables to boost restaurant service and sales through all e-payment having nowadays.

Comprehensive Backend System – A complete purchases, sales and inventory module help streamline your Autocount f&b Pos operating process. It supports keyboard, scanner or touch screen mode and comes with various shortcut keys to speed up the process of order

Your own Brand Identity – Customize forms, receipts and reports with our designer tool according to your brand in Autocount f&b Pos


Database stability – AutoCount f&b Pos supports the database at both front and back ends lennds stability to each terminal and creates a strong database
EFFICIENT FLOOR PLAN & TABLE MANAGEMENT
Design restaurant's areas/table using AutoCount table management module. Handle batches of crowds easily with table plan feature and effectively manage seats arrangement and minimize waiting hours. Perform all settings of layout with simple users interface, with various features including take-away, split bills and combine bill functions.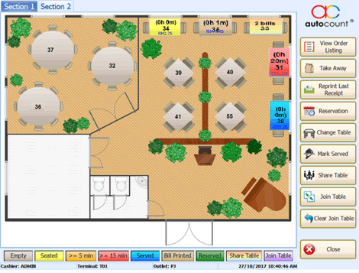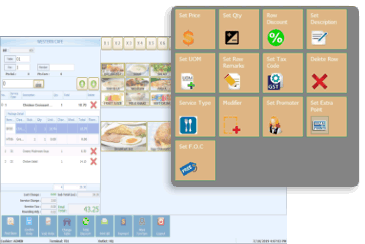 MANAGE PRICES, DISCOUNT & PROMOTIONS
Pricing matter is crucial in retail business. That's why AutoCount POS is equipped with features and functions for you to plan your prices, discounts, memberships, seasonal or happy hour discount, specific promotions etc.
BETTER MANAGED ORDERING PROCESS
Try to speed up sales/purchase process by maintaining Item Packages, Set Meals, or combinations of a list of items to be transacted as a package. AutoCount POS and F&B system are designed for easy setup with practical functions:
Make a good use of modifier

Display of Item sold Out

Kitchen printer monitor to make sure you never miss a single kitchen slip

For maximum efficiency, assign separate printers to beverage station (to process drinks orders) and Kitchen (to process food orders).

Making reservation

You may customize the content of kitchen slip (e.g. font size)

Ingredient reports such as listing of ingredient status and consumption report

Notifications are automatically sent to the kitchen if an order or table is changed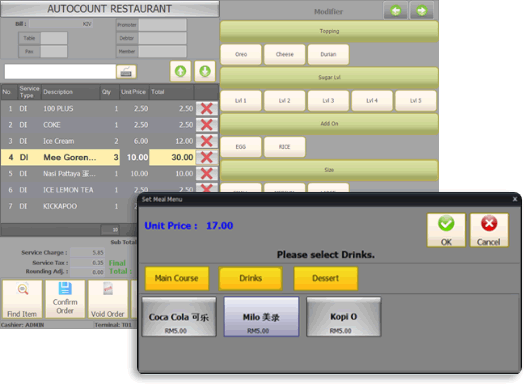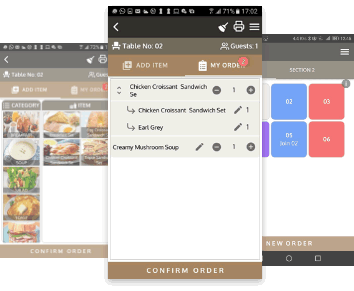 SMART ORDERING
Ordering process can be done on our smart eWaiter app that used with devices such as iPad, low-cost smartphones or tablets. This will speed up order taking process and orders are send directly to the kitchen for immediate process and accuracy as the whole process is completed right at the table side, and customers are attended almost immediately.
Need Consultation To Upgrade Your Business To A Next Level?