As there are various brands of barcode printer, and different brands may apply different barcode formats, which could make the printed barcodes unreadable (unrecognized) when being scanned.
This  plug-in is used to print barcode with a Barcode Template File, which eliminates the problems of non-readable printed barcodes.
Barcode template file is an output file generated from a barcode printer software (such as Bar Tender, Poslabel, Label Gallery…) which was fine-tuned in accordance to the required barcode format and desired contents.
Installation
First of all, obtain the plug-in installer PrintBarCode Plugin Setup.exe … double click to install the plug-in (just follow the guided steps).
Then, login to the desired account book of AutoCount Accounting, go to Tools > Plug-Ins Manager, click to highlight the Print BarCode Plug-Ins, then click on Install, Close.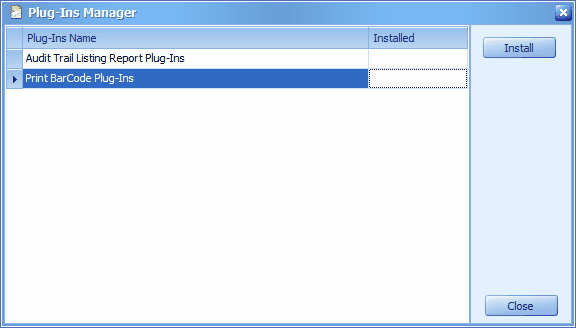 How To Start
After the installation of Pint BarCode Plug-Ins, the flow of creating and using Barcode Template are as follows:
1. Install the barcode printer software (depending on the type of barcode printer) such as: Bar Tender, Pos Label, Label Gallery …
2. Create/design the barcode layout using the barcode printer software;
3. Use 'Print to File' to generate a output file of the designed layout (Barcode Template);
4. Open the Barcode Template using Note Pad, and modify the content accordingly; save the template;
5. In AutoCount, go to Tools > Print Bar Code, print the barcodes using Print With Barcode Template File.
Contact us for a full product walkthrough